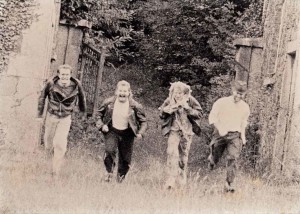 Burnham Burham were one of the most popular bands on the north Wales music scene in the late 1980s.  Described on the Link2Wales website as "Legendary early 80s Bangor group – other groups loved them to bits and wanted to be in them, they were very very good".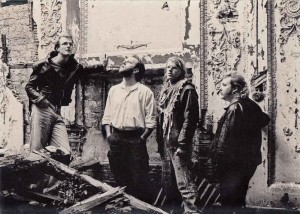 The line up was Richard and David Hopewell – vocals and guitars, James Phillips – bass, Pete Walton – Drums and Harvey Starr – vocals and percussion.
The band was named in tribute to the Australian activist Burnum Burnum who planted the Aboriginal flag on the white cliffs of Dover and claimed England for the Aboriginal Nations.  Spelling was less certain in the days before Google!
They released two albums:
Spirepoint in 1988
Do Clean and Vivid in 1989
The band kept going after the second album but split up when Richard moved to the Isle of Skye. There have been several reunion gigs, including one that included a cover of the F.U.N. track, The Night That Bernam Bernam Was Born.  This refers in somewhat oblique fasion to the birth of David and Kathy's son Bryn who was called Burnham Burnham for a while.  This name was eventually vetoed!